Published by Elise on Nov 1st 2022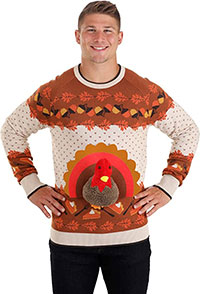 Get ready, folks! The famed sweater weather is finally here. We're talking about warm and fuzzy weather, early nights, and bright light weather. We're talking about the "I need to squeeze as many space heaters into this studio as possible, so my hands don't freeze" weather. Fall's passing, winter is coming, or something like that.
We have a variety of events on our roster for this Month. Our last Electric Kiln Workshop of the year will be November 20, from 9 am to 1 pm. Stone Leaf owners Ingrid and Bob will bring you their 60+ years of firing experience and repair. Bought a kiln from us lately? This workshop is for you - one kiln purchase = one seat in this class. This class is perfect for those new to owning a kiln or about to purchase one. More information is under the workshop tab on our website.
This Month also marks the inspiring Denver Arts Week, happening November 4 - 12! It kicks off with a First Friday Art Walk and goes on to offer a variety of events at art districts and museums, as well as tours, outdoor sculptures, and markets! Get out, see some art, and support your fellow artists!
Support your fellow artist; learn more by clicking here.
Year End is approaching, and with that in mind, we have a few reminders for you:
We are closed all of Thanksgiving Week! We'll be making pies and turkey in the kiln.
Potter friends who utilize our firing services at Stone Leaf
Our cut-off dates to get your pieces into the kilns are approaching.
If you need pieces fired in Stone Leaf's kilns in the next six weeks, please submit them by the following dates:
Bisque Firing Deadline: Saturday, December 3
Glaze Firing Deadline: Saturday, December 10
And lastly, we will be closed from Saturday, December 24, through Monday, January 2, 2023, for our traditional year-end closure.
During Year End and Thanksgiving, we will be counting inventory and moving around some furniture (whatz??) - we're unlikely to have computers plugged in, let alone able to ring sales tickets if you happen to stop by. We'll look forward to seeing you in the store after our breaks.
On to our specials: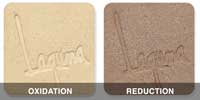 52 Buff with Sand, $12.50 per bag up to 100lbs
We all know 52 Buff is solid clay, fantastic to throw and sculpt, and great for small projects. With the addition of sand, this clay's buffed up to handle the larger stuff, too, leading to greater strength and workability! If you love the classic buff but want medium grit, 52 Buff with Sand is your man. The texture is ideal for building upwards, providing a solid foundation. Throwing isn't lost, as the original 52 Buff's flexibility remains present. This is a perfect opportunity for both sculptors and throwers to add some oomph to your pieces!
GLAZE OF THE MONTH
Buy 6 of any glaze, and get one free of equal or lesser value.
A wild card, folks! Rather than us select a Glaze of the Month, we're making YOUR favorites our glaze of the Month! With the purchase of any six glazes of the same brand, you can select one free glaze of equal or lesser value! This extends to all of our glazes, just in time for the holiday shopping to start. Get excited, go nuts, and we look forward to seeing you shopping to your glazed heart's content!
Additionally, with any Mayco purchase, you'll receive a free 2 oz Stroke and Coat from the "swag box"! One per customer. Come on in and get your Mayco on!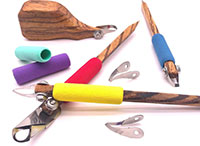 Buy any DiamondCore tool and Get a FREE Gift!
We love our DiamondCore as much as the next pottery retail distributor, so we want to share our DiamondCore tools with you, our lovely customers! High quality and handmade, essential to any studio, we all know why DiamondCore is so so popular.
In the upcoming holiday spirit, we're adding a free gift with the purchase of any DiamondCore tool! After all, DiamondCores' are a potter's best friend, so why not indulge and receive an extra little something?
That's all for now, folks! Happy potting and stay warm, everybody, and we look forward to seeing you around the store.
Elise and the Stone Leaf Pottery Crew
All Clay of the Month purchases are limited to 100# of Clay. The sale price is valid only in November 2022 and is not combinable with other discounts.
It's not uncommon for us to run out of the Clay (s) of the Month, so we always suggest you shop early in the Month to ensure the Clay is in stock. Also, when purchasing Glaze or Tool(s), or Equipment of the Month, again, it's limited to products on hand. So, if we don't have it when you shop, come shop with us again soon! We replenish our shelves constantly—we'll hopefully have more soon! Got more questions about how this works? Please, please reach out to us!