Published by Elise on Oct 1st 2022
Happy October, fellow throwing fiends and sculptors!
'Tis the season to make ceramic pumpkins and other spooky goods, as well as eat a silly amount of sweets. Be sure to check in with your dentists during this time, we know they worry. If you, too, love your snacks, don't fret: Stone Leaf keeps candy at the front counter.
Who doesn't love fall? And this fall, Stone Leaf's giving the people what they want: workshops!
Stone Leaf is holding a Mayco Cone 5 glaze class on Monday, November 7th, 1 - 4pm! This class requires sign-up no later than Tuesday, November 1st. The cost is $20 due upon registration, which also comes with a fabulous $15 coupon off Mayco glazes at Stone Leaf! This coupon will expire December 16, 2022. For the class, bring 3 pieces of bisque that will fire to cone 5, about 5"x5". All glazes are provided, as well as some brushes.
We'll also be holding the Electric Kiln Workshop on Sunday, November 20, 9am - 1pm! This is the last Kiln Workshop in 2022! Don't miss signing up for this great class - perfect for those new to owning a kiln or about to purchase one. For more information, give us a call or ask about these events at the counter.
Now, for our specials
TOOL OF THE MONTH
Bats and Bat Systems
15% off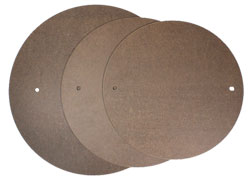 Is it goblins, ghouls? No, the tool of the month is a BAT! Haha! Really, bats plural, as our bats and bat systems are 15% off this month!
Be you a sculptor, thrower, or all-around clay-player-arounder, I need not waste words on the usefulness of bats. This gorgeous deal extends to Hydros, Speedball plastics, and even SpaceSavers!
Whether it's reclaiming clay, throwing vessels that are safer left on for a while or simply needing a place to put a mid-process project, there's a bat for that. If you're unsure what bats you need, be sure to ask the Stone Leaf folks up front! We have a variety and tend to keep our supply well stocked.
CLAY OF THE MONTH
Charcoal Clay Cone 5 by Aardvark
On special for $17.50 per bag (up to 100 pounds
We love our black clay bodies, especially if they come from Aardvark, and Aardvark's Charcoal is no different. This clay's ideal for the medium-grit potter who wants a dark clay body both to throw and to sculpt, with enough oomph to hold up a piece of any size. Those who love a decorative base can find comfort in Charcoal's depth, as the color tends to come out a rich, bold black, making a beautiful base for most glazes. Bloating isn't an issue for Charcoal (in our experience) - so strike that worry from your mind. A crowd favorite for clay the color of night. Scoop up your clay before it runs out!
GLAZE OF THE MONTH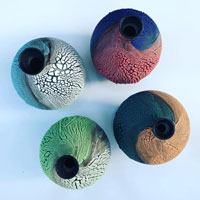 Laguna Dry Lake Glazes Cone 5
20% off, regularly $20 now $16
This one's for our texture lovers, glaze chemists and evil scientists! Want a glaze reaction that'll make everyone go "whoa", following it up with "can I see that"? Then Laguna's Dry Lake glazes are for you! Truly something out of this world, the unique pattern and texture was inspired by the dry lake beds of Death Valley. These glazes are sold in different colors and come out with the same shattered but intact base, having been formulated to adhere securely without flaking away. Their vibrance looks stellar against both light and dark clay bodies—a good match for Aardvark's Charcoal, perhaps? For our mid-firers, you'll want a few of these on your shelf before they sell out.
Just a few other details this month: Clay delivery prices are going up effective October 15. They'll be starting at $35 and will depend on distance and total weight of order.
And… a gentle reminder that if you are purchasing items for a non-taxed entity (school, community center, etc.) the funds paying for that order must be from that entity. Unfortunately, this means if you are an individual paying for classroom supplies from your own wallet, we need to charge tax. It's a bummer - we know.
That's all for now! Happy autumnal potting, everybody, and we look forward to seeing you around the store.
Elise and the Stone Leaf Pottery Crew
All Clay of the Month purchases are limited to 100# of clay. The sale price is valid only in October 2022 and not combinable with other discounts. It's not uncommon for us to run out of the clay (s) of the Month, so we always suggest you shop early in the Month to ensure the clay is in stock. Also, when purchasing Glaze or Tool(s), or Equipment of the Month, again, it's limited to products on hand. So, if we don't have it when you shop, come shop with us again soon! We replenish our shelves constantly—we'll hopefully have more soon! Got more questions about how this works? Please, please reach out to us!